Coinfest Asia—Asia's Top Insight & Networking Crypto Festival, successfully held on 25th to 26th August 2022 in Bali, Indonesia. The event was attended by more than 2,000 people from 52 countries in total for 2 hot summer days.
Coinfest Asia brought a wide range of audiences from startup founders, financial institutions, venture capitals, public figures, banks, developers, and regulators. Highlighting the 'insight' and 'networking' aspects, Coinfest Asia managed to bring quality topics and important discussions onto the stage and let the audience mingle in a loosened-up Bali beach club setting.
Aside from media and communities, Coinfest Asia connected more than 300 web3 companies and key industry players. Some of the companies attending the event were Polygon, Mastercard, OKX, Standard Chartered, MDI Ventures, Binance, ConsenSys, CoinDesk, and many more.
Coinfest Asia is organized by Coinvestasi, a media company subsidiary of Indonesia Crypto Network (ICN). According to Felita Setiawan, Director of ICN, this event was purposefully held in a relaxed setting and in the form of a festival as it suits best with crypto communities.
We've held Coinfest every year before COVID-19 pandemic arose. But this year, we aimed to make it different and bigger in a festival-themed and relaxed atmosphere. We truly think this kind of setting suits crypto events better, making it easier for the attendees to network and gain insights & knowledge comfortably while chilling in the beach club," she said.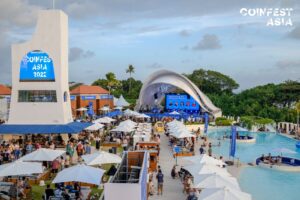 What did you miss?
Numerous speakers from renowned companies attended and spoke about different enticing topics. With 1 main stage, 3 conferences, and 17 panel discussions, Coinfest Asia managed to bookmark important discussions such as the contenders of Ethereum, the instability of stablecoins, Defi and institutional adoptions, the economic realities behind metaverse, and more.
More than 80 speakers from established companies shared their ideas and insights at the event—Ripple, IBM, Coinbase Institutional, BNB Chain, 1inch, Nansen, Crypto.com, and Fireblocks, just to name a few.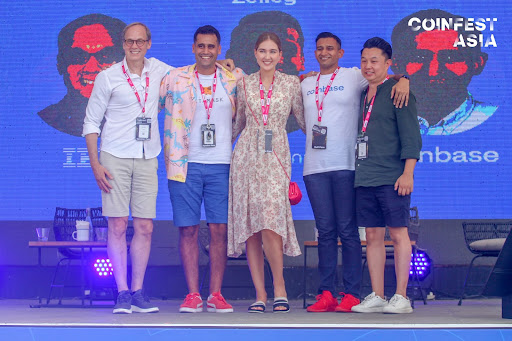 It does not stop with panels and conferences on the main stage only. Coinfest Asia brought insightful sessions for its attendees that can be found through multiple different sessions such as Breakout Area—where people could get connected directly with the speakers, Bull & Speakers Lounge—a meeting point for VIPs and business matchmaking sessions, and Whale Room—where Pitching Session happened with web3 projects from 7 different countries.
A playful yet relaxed atmosphere played the part in helping attendees to network further over pizzas and beers. The event also helped connecting more than 160 companies through personalized business matchmaking. The quality of networking that Coinfest Asia served truly became an experience not only on a surface level but a thoughtful process in bringing the right potential partners to each of them.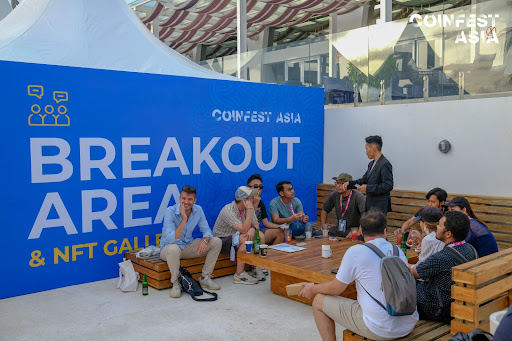 Coinfest Asia 2023 is Right Around the Corner!
The experience Coinfest Asia 2022 offers to the attendees surely was not like any other crypto conference. Seeing the enthusiasm and positive feedback from its attendees, Coinfest Asia will be back in 2023 to welcome more web2 and web3 industries from all over the world in Bali, Indonesia. The things that are expected in the next Coinfest Asia is more insight, more networking, and definitely more festive than before!
If you are interested in becoming a part of Coinfest Asia 2023, you can get more information on Coinfest Asia's official site.
Coinfest Asia 2022 was sponsored by Fireblocks, EnjinStarter, KunciCoin, Deepcoin, Emurgo, Advance.ai, QoinPay, Elliptic, FastEx, Indodax, Pintu, BlockchainSpace, AMDG, 1Inch, BingX, ParaState, Coinstore, LordToken, MetaOne, Swallow, Metabase, StraitsX, PlotX, Haqq Network, ComplyAdvantage, Solana (NFT Gallery), Paras, Tezos, Degree Kripto Token, Nanovest, BRI Ventures, Circle, Pendulum Chain, and Metaverse Indonesia.
Asia's Top Insight & Networking Festival. Coinfest Asia is the premier industry event that focuses on the crypto ecosystem in Indonesia and Asia. Coinfest Asia is not consumer/retail investor oriented.
Don't forget to follow us on