Coinfest Asia 2023, an extraordinary event hosted at the stunning Bali Clifftop in Jimbaran on August 24th and 25th, was more than just an annual gathering of crypto enthusiasts. It served as a beacon illuminating the rapid growth and integration of web3 technology in Asia. As attendees from 62 countries gathered to explore the intersection of Web2.5 and Web3 industries, the event sparked discussions about the transformative potential of web3 technology in addressing impact-driven causes across the region.
The Web3 Boom in Asia: Companies Integrating Web3 Technology
According to the latest analysis released by Emergen Research, the worldwide Web 3.0 industry is expected to soar, reaching USD81.5 billion by 2030. This growth will be accompanied by a whopping compound annual revenue growth rate of 43.7% over the projected time frame.
Furthermore, interest in Web3 among enterprises in the Asia Pacific region is high, in many cases exceeding the use of the technology. A survey published in October 2022 by the International Data Corporation (IDC), a research firm, found that 89% of firms in the APAC region "appreciate the importance of Web3." The significant valuation projections for Web3 in Asia make this industry highly interesting to various Web2 companies looking to enter Web3.
Coinfest Asia received a warm welcome from Sandiaga Uno, Minister of Tourism and Creative Economy of the Republic of Indonesia. In his speech, he described Coinfest Asia as the largest Web3 festival event in Asia. According to him, this event is proof of the Asian region's, especially Indonesia's, openness towards Web3 creation and innovation.
Serving as a meeting point between Web2 and Web3 companies, Coinfest Asia succeeded in bringing together over 600 Web2 companies and 1,500 Web3 companies from around the world to foster collaborative innovation, resulting in over 10,000 connections.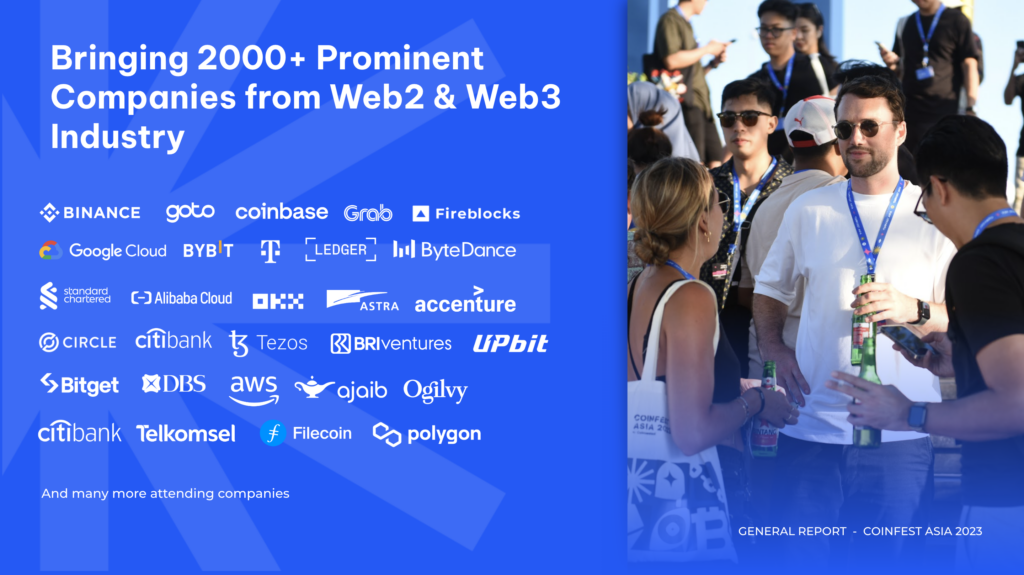 Exploring the Impact-Driven Potential of Web3 Initiatives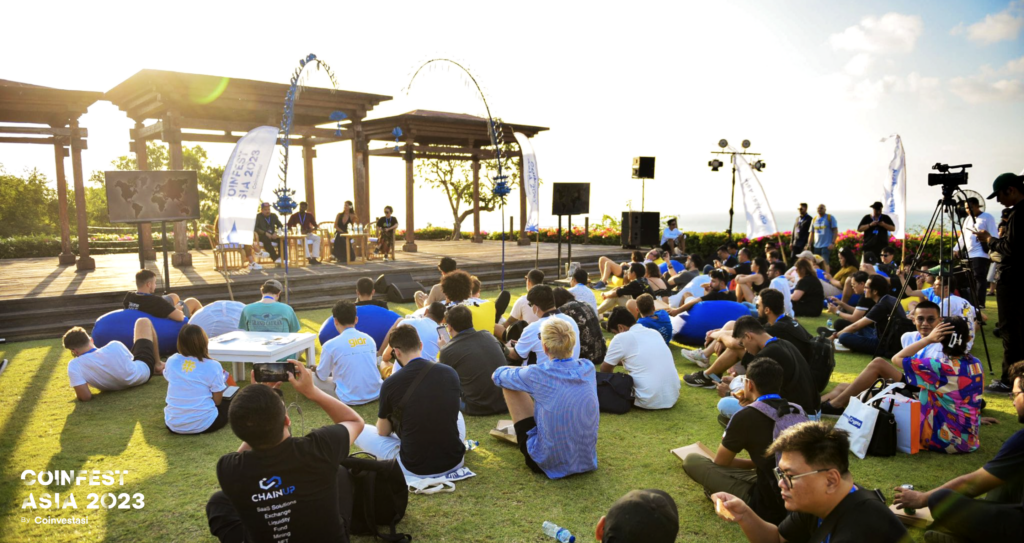 Coinfest Asia 2023 also brought forward discussions regarding the impact-driven potential of web3 technology. The easiest example of this can be seen in the gaming sector, property ownership, Decentralized Finance (DeFi), and the social environment.
In the gaming sector, blockchain-based games and virtual worlds take the spotlight, demonstrating how Web3 enhances the player experience, encourages ownership of in-game assets, and fosters unique economics within the gaming ecosystem.
The entertainment industry is showcasing fan engagement driven by property ownership through NFTs, enabling artists and content creators to connect directly with their audiences, monetize their work, and create digital collectibles with real value.
In the financial sector, decentralized financial solutions (DeFi) are taking center stage, making traditional financial services more accessible and inclusive. Web3 empowers individuals to have greater control over their finances, removing traditional barriers to entry into this world.
Meanwhile, projects dedicated to social and environmental causes are exploring how blockchain can increase transparency in charitable donations, giving donors real-time visibility into how their contribution is making a difference.
Moreover, web3-enabled initiatives in the healthcare sector sparked conversations about how blockchain can improve data security and streamline patient records, ultimately enhancing the quality of healthcare services.
These dynamic discussions underscored the versatility and transformative power of web3 technology, paving the way for a future where industries and initiatives across Asia and beyond harness the potential of the decentralized web
Asia's Progressive Regulatory Landscape
A key driver behind the growth of the web3 and crypto industry in Asia is the progressive and web3-friendly regulatory environment in several countries. Governments in the region have recognized the potential of blockchain and decentralized technologies, leading to the development of clear frameworks and guidelines.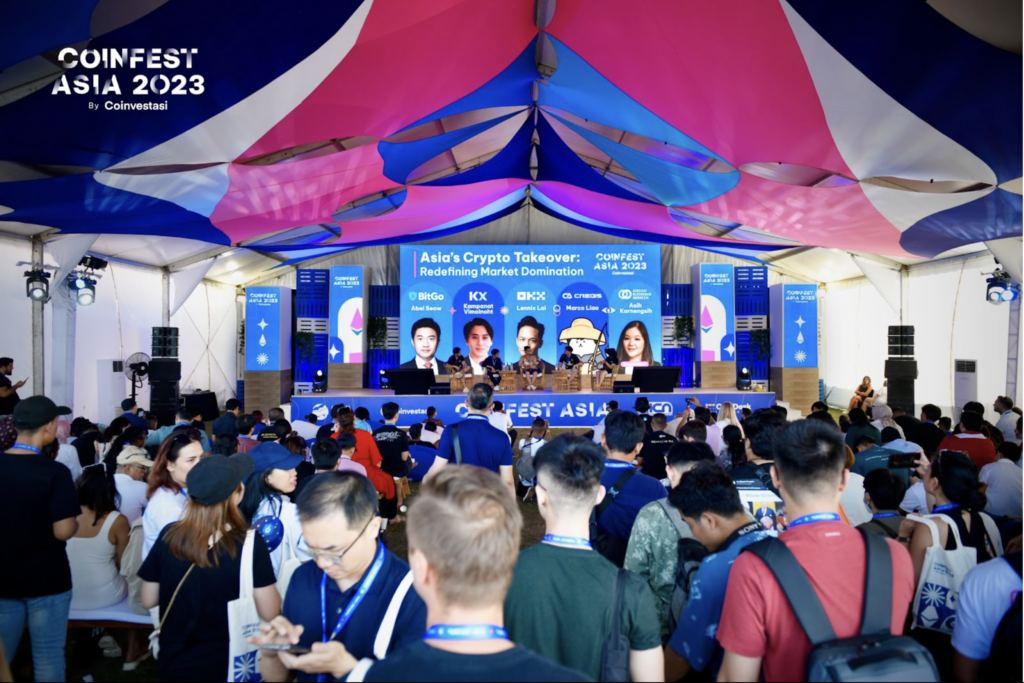 During the panel discussions with the title "Asia's Crypto Takeover: Redefining Market Domination," Lennix Lai (Chief Commercial Officer, OKX) said,
"In the United States, cryptocurrency discussions have waned in recent times, while in Asia, we're witnessing a surge in regulatory developments, particularly notable in Hong Kong. This trend is substantiated by the fact that Asia boasts a significant share of the global cryptocurrency user base and landmass."
He added, "Governments in the region are actively creating an ecosystem that encourages capital inflow back into Asia. A crucial factor in this shift is the improved regulatory clarity, which is pivotal for fostering the growth of web3 companies. This regulatory clarity has become a magnet for Western enterprises, driving them to establish a presence in Asian cryptocurrency hubs such as Hong Kong and Singapore."
In instance, TripleA research estimates that by 2023, the global number of cryptocurrency users will surpass 420 million. Notably, Asia is poised to dominate this statistic, with an estimated 260 million crypto owners, which is double the 2022 figure.
To put this into perspective, this number aligns with the population of entire Asian countries like India, Indonesia, and China. These statistics highlight the remarkable growth and importance of the cryptocurrency and Web3 market in Asia.
Coinfest Asia 2023: A Glimpse of the Future
In summary, Coinfest Asia 2023 was not just an event; it was a platform for discussions about the impact-driven potential of web3 technology in Asia.
Coinfest Asia is set to make a return in 2024, inviting web2 and web3 industries from across the globe. Anticipate even greater insights, expanded networking opportunities, and an even more festive atmosphere at the upcoming Coinfest Asia event!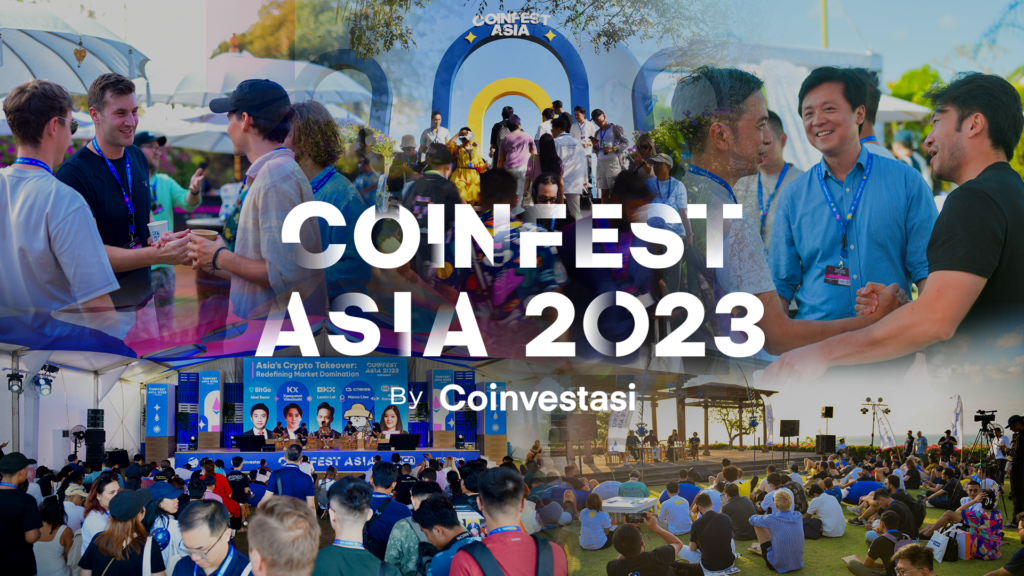 For those interested in joining Coinfest Asia 2023, additional information can be found on the official Coinfest Asia website.