The launch of Indonesia's National Crypto Exchange might be a square-peg-in-a-round-hole situation.
Indonesia is now making waves in the world of cryptocurrency. In a historic move, Indonesia became the first nation to launch its National Crypto Exchange, PT Bursa Komoditi Nusantara, also known as the Commodity Futures Exchange (CFX), in July 2023. This significant development has left both crypto enthusiasts and skeptics pondering its implications. In this article, we'll delve into what this exchange is all about, how it functions, and why Indonesia has ventured into this crypto frontier.
What is Indonesia's National Crypto Exchange?
Indonesia's National Crypto Exchange is not aiming to compete directly with global giants like Binance or Coinbase. Instead, it serves as a pricing reference index, similar to the Nasdaq composite for traditional stocks. This distinction is crucial as it highlights the exchange's unique purpose within the crypto ecosystem.
A kind of its own, Indonesia's crypto ecosystem comprises four main pillars as the image below: the national exchange (a bourse), a clearinghouse, a depository, and physical crypto asset traders (which we typically call exchange). Each of these components plays a specific role in facilitating the exchange and custody of digital assets.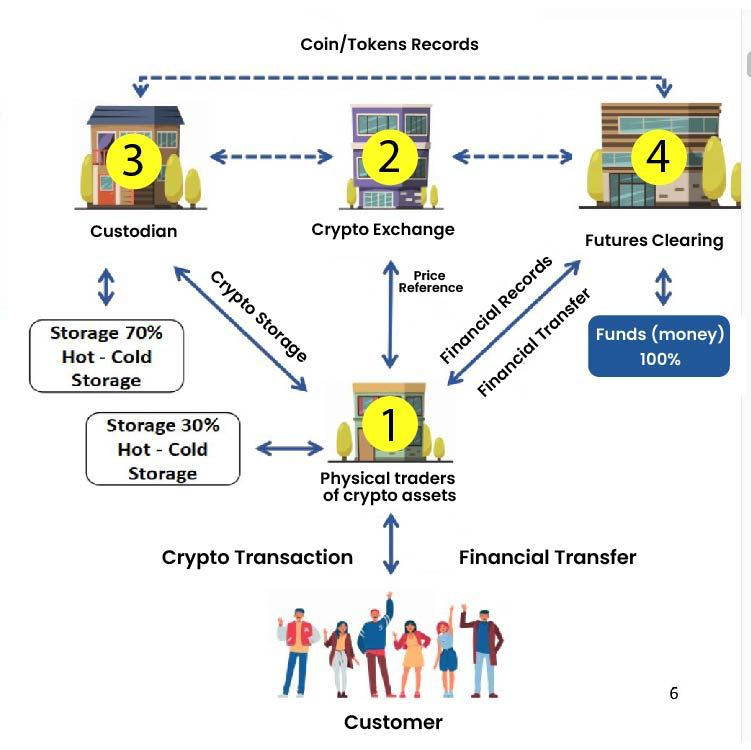 How Does It Work?
As of the launch date, 23 out of 30 prospective crypto asset traders (exchange) have been registered on the CFX. These include well-known names like Ajaib Kripto, Triv, Nanovest, Naga Exchange, and more. PT Bursa Komoditi Nusantara (CFX) will oversee the exchange itself, while PT Kliring Berjangka (Clearing House) Indonesia will handle transaction clearing. PT Tennet Depository (Custodian) Indonesia has been appointed as the manager for crypto asset storage.
The national crypto exchange launched is the Crypto Exchange on the above image number 2. It functions as a price referring/index for buyers and sellers. But, why is it that we need the CFX to act as registry or price referencing? Isn't crypto already decentralized? Why does the government feel the need to launch CFX?
Why Indonesia Build the National Crypto Exchange?
The primary motives behind Indonesia's foray into the crypto exchange space is legislation.
By establishing a National Crypto Exchange, Indonesia aims to provide clear regulatory guidelines for the cryptocurrency industry. As we know in Indonesia, crypto assets are considered legal to be traded as commodity, hence the regulations follow the existing commodity trading regulations. We're seeing that the government body is applying the exact same framework in the commodity market to crypto market as crypto is legally traded as commodity in Indonesia, which doesn't necessarily fit the nature of crypto assets for following reasons:
Traditional Finance Framework: The attempt to fit crypto products into a traditional finance framework, including centralized controls like trading hours and restrictions on price movements, could prove challenging given the decentralized nature of crypto assets.
Additional Fees: CFX will charge fees to the registered exchanges and this fee might be resulted in an increased business cost and be imposed to the users. Which eventually may be passed on to users and lead to a premium in trading prices.
Cryptocurrency as a Commodity: Treating cryptocurrencies as commodities while the regulatory body transitioning from Bappebti to OJK (Indonesia's SEC) may lead to conflicts and regulatory uncertainties for the industry players.
However, opportunities are also coming with it. In the commodity market, futures trading is already in practice with people trading contracts of the commodities. This is one thing that is interesting for the local industry players. Given Indonesia's substantial market potential, the introduction of futures trading represents a significant opportunity that should not be overlooked. The considerable number of crypto traders and the volume of crypto trading activity provide a strong rationale for the introduction of futures products and the expansion of crypto asset trading. Aside from that some of the opportunities are:
Government Support and Industry Legitimacy: The establishment of a national exchange demonstrates positive support from the government, offering a sense of legitimacy to the crypto industry.
Creating a Proper Ecosystem: The involvement of legitimate players in the exchange and regulatory framework helps create a safer and more secure environment for crypto trading.
Mainstreaming Crypto: As crypto trading becomes institutional-grade in Indonesia, it has the potential to become a mainstream asset class, further integrating cryptocurrencies into the country's financial landscape.
In conclusion, Indonesia's National Crypto Exchange represents a significant milestone in the global crypto landscape. While it offers promising prospects for legitimizing the crypto industry and enabling futures trading, it also raises concerns about fees and the adaptation of traditional financial frameworks to the crypto world. As the crypto ecosystem in Indonesia continues to evolve, it will be essential to monitor how these factors play out and shape the future of digital asset trading in the country.