Indonesia Web3 Landscape and Crypto Outlook 2022 were officially released today by the Indonesian Blockchain Association (A-B-I) and Indonesia Crypto Network (ICN).
The blockchain and crypto assets ecosystem are growing significantly from year to year. This is evidenced by the many blockchain-based companies and projects that have sprung up in Indonesia.
The latest data compiled from the Ministry of Communication and Informatics, there are 569 companies or startups registered in the Online Single Submission (OSS) system that fall into the category of "Blockchain Technology Development Activities" with the Standard Classification of Industrial Business Fields (KBLI) 62014.
According to data from CoFTRA as of October 2022, the total number of investors in Indonesian crypto assets has reached 16.42 million, which is much larger than the total investors in the capital market which only reached 9.98 million investors.
"This landscape can help new players to connect with the right industry actors. Simultaneously Indonesian Blockchain Association (A-B-I) also released Indonesia Crypto Outlook 2022 with the aim of showing the growth of the crypto asset industry in Indonesia which consists of information on total transactions, number of investor growth to the total list of crypto assets traded in Indonesia," said Asih Karnengsih, Chairwoman of ABI.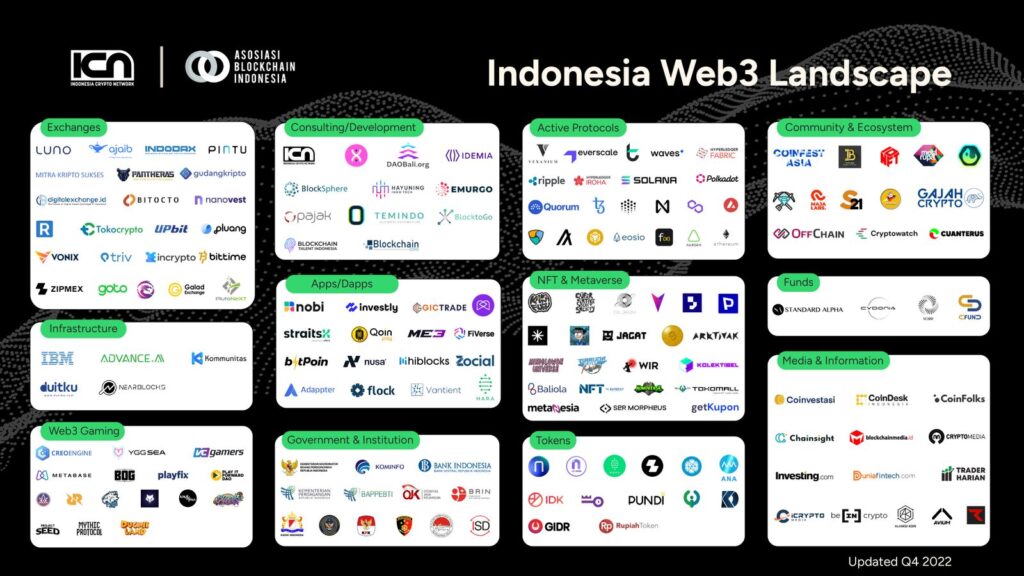 In the latest 2022 edition, there are 5 interesting information that you need to know apart from the name change from Indonesia Blockchain Landscape 2021 to Indonesia Web3 Landscape 2022.
Regulators are getting more active
In 2022 regulators will be more active and participatory to create a more regulated crypto ecosystem in Indonesia.
Among these are the release of 383 legal crypto assets traded on 25 exchanges that have been registered with Bappebti, crypto tax rules, and the inclusion of crypto as part of the Financial Sector Development and Strengthening Act (P2SK).
The Indonesian government through Bank Indonesia has also released a white paper regarding the central bank's digital currency (CBDC), namely the Digital Rupiah in a project called Garuda.
More Number of Categories
In 2021 there are only 6 categories, while in 2022 there are 12 categories. This number has doubled and is one of the proofs that the Indonesian crypto and blockchain ecosystem is experiencing an increase. The 12 categories in this 2022 landscape are as follows:
Platforms for buying and selling crypto assets (crypto exchanges)
Blockchain consultants
Blockchain infrastructure
Blockchain media & information
Digital Assets/Dapps
Blockchain community
Government and related institutions
Blockchain active protocols
Token
Funds
NFTs & Metaverse platforms
Web3 Gaming
There are 6 New Categories, Indicates Expanded Growth
In 2022 there will be six new categories, namely infrastructure, digital assets/DAPPS, community & ecosystem, active protocols, tokens, funds, NFT & Metaverse, and WEB3 gaming. This variety of categories cannot be separated from the emergence of various innovations and new trends in the crypto and blockchain industry.
Companies in the Crypto Ecosystem are Rising
Based on the report, the number of companies on the list is 210, this number has more than doubled compared to 2021, which only had 69 companies.
The Number of Listed Exchanges Has More Than Doubled
In the 2021 edition, only 10 exchanges were included in the list, in 2022 the number in the category of registered exchanges has more than doubled and now there are 23 exchanges.
Exchanges that have just been included in the 2022 list are as follows: Gudangkripto, Nanovest, Pluang, Galad, Pantheras, Koinku, Mitra Kripto Sukses, Ajaib, Bittime, Incrypto, Vonix.id, Plutonext, Kripto Maksima (GoTo).